An amazing new way to rocket your sales performance...
Revealed at last – an easy way to CLOSE more SALES more often…

Price shoppers are just prospective customers looking for a real salesperson. Turn all your prospects into customers and make this revolutionary closing system work for you TODAY!
How to MASTER WINNING SALES TECHNIQUES from your desk and beat your competition.
Invest the commission from your next four sales
If you want to…
Double your conversion rate immediately
Sell more this month and every month
Turn every prospect into a buyer
Eliminate time wasters early in the process
Start getting your customer committed from the first exchange
Learn the SECRET FIVE STEP FORMULA to overcome every customer objection
Design a personal sales process that will sell every time
And…
You are a positive thinking salesperson, and
You want to improve your performance, and
You are looking for ways to get an edge on your colleagues and competitors, and
You are committed to improving your performance immediately, and
You are looking for ways to improve your commission and bonus
Then…
'Closing the sale' is the number one skill that will make you more money, more often.
Average salespeople have virtually no understanding of how to design a sales process that is 'peppered' with closes, in fact some salespeople don't even know that you are supposed to design a sales process at all! They leave it to chance, tell everyone that every customer is different and then let the customer decide.
Champion salespeople, the ones who earn the most money and get the most repeat business, are the ones who 'plan their work and then work their plan'.
Do you make any of these mistakes?
Fail to get customers nodding and agreeing with you from the very first question
You don't have a defined sales process, peppered with closes
You can't anticipate your customer's answers to your questions
You don't have a plan for when the customer says 'I want to think about it'
You just answer with the information when the customer asks you a question about specification or extras, instead of seeing it as an opportunity to close
You fail to give your customers alternatives to get their agreement
You ask for permission to meet
When a customer asks you for commitment you fail to swap that commitment with something you need/want
You don't have a readymade answer for people who say 'I need to talk to my husband/wife' or 'I need to talk to my accountant'
You don't know what to do when the customer says "No!"
If you answered yes to any of the above then I am delighted to tell you, not only are you about to learn twenty amazing techniques that will solve every one of the above mistakes, you will also learn the SECRET FIVE STEP FORMULA which overcomes every objection.
In my "Ultimate Knockout Closing System" I will give you everything you need to know to close more sales starting immediately. These are proven techniques that have been working for many years for top selling salespeople and they are now available to you.
WARNING!
I am serious about sharing this powerful information with you, but it is only for people who are serious about earning more money. It is not for freeloaders who want something for nothing, who won't do anything with the information when they get it!
However well you sell at present, putting this powerful information into practice will improve your sales beyond your wildest dreams. I should know, because these techniques have had an amazing impact on my own sales career, helping me to sell over £20 million pounds worth of services and products to some of the biggest companies in the world, and helping thousands of salespeople to sell more, more profitably, more often!
This brings to mind a Volkswagen salesperson I worked with in the UK who was responsible for selling VW's to local businesses. Chris didn't always agree with my methods at first, but to his credit he had a winning mindset and implemented everything I showed him. Only a few years later, Chris retired (and he was only 35) and now farms Buffalo in South Africa!
But, as we all know, you get what you pay for; and although I do want this to be accessible you will need to make an investment, beyond your time and desire.
If you're not sufficiently motivated enough to invest in YOUR FUTURE, then stop reading now!
Otherwise read on to get more information about …
"The Ultimate Knockout
Closing System"
THE COMPLETE BOX SET
"Are you ready to earn at least £50,000 pa more?"
Because that is the impact that this amazing System had on my earnings
"Rob Purfield is NOT ONLY one of the top sales trainers in the UK, he is also one of the top salespeople, and he will share more than 20 years of research, experience and expertise with you to improve your sales results and make you more influential."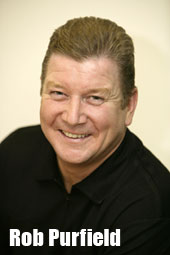 From: Rob Purfield, creator of 'The Ultimate Knockout Closing System'
Date:

Dear fellow Sales Professional,
Would you like to;
Improve your sales volume
Improve your sales profit
Improve you repeat sales
Improve your referral sales
Improve your earnings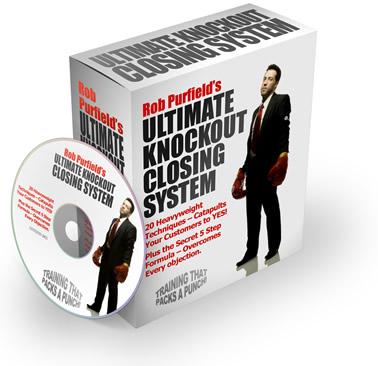 This product has been established especially for you!
A complete set of DVD's
A complete set of Audio CD's
Your own copy of the No. 1 book on closing "The Ultimate Knockout Closing System"
Special Bonus 'Secret 5 Step formula' overcomes every objection
Plus
You qualify for these extras (worth £175.00);
Free access to 4 part video series Beyond Sales Process
Free e-book on "How to gain Referrals from every customer"
Special report; the 7 Biggest Secrets of the World's No1 salesperson
Whatever level of selling you are at, or whoever you would like to influence, The Ultimate Knockout Closing System Box Set has all the information you need to improve your results.
The DVD's are especially commissioned videos written for you and in watchable five minute chunks, giving you the core information you need, in an easy to watch and easy to understand format.
They are ideal for your own personal development, group training or to use as part of a sales meeting to get your team focused key techniques.
Combined with the audio Cd's which are superb for when you are on the move, in the car or on your iPod, and of course together with the #1 book on Closing, you will have all the information you need at your fingertips, anytime anywhere, to help you CLOSE THAT SALE
Do you get frustrated when;
Customers don't behave what you want them to do?
Other people seem to find it easy to sell more than you?
Customers just don't get it - and say "I want to think about it?" or
Negotiations turn into a competition of objection and answers?
Do you sometimes find yourself tongue tied when trying to persuade others (or do you often find that you only think of the clever answers the next day or when it's too late?)
In that case you have come to the right place.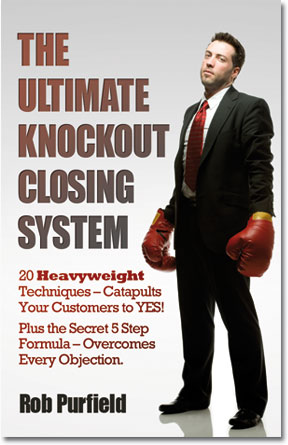 The Ultimate Knockout Closing System will provide you with valuable sales and persuasion techniques which have helped some of the world's best sales professionals to improve; their volume sales, increase profitability, and generate repeat sales and MORE COMMISSION beyond your wildest dreams.
You will receive…
the complete set of amazing training DVD's, a superb set of audio CD's and a copy of Rob's fantastic book "The Ultimate Knockout Closing System," which also includes a very special BONUS SECTION which reveals a SECRET 5 STEP FORMULA, How to overcome every objection, which in just 5 minutes will give you compelling information to improve your ability to influence others, even under pressure.
Plus,
You will receive free access to Rob's four part video series Beyond Sales Process;
Part One - Psychology of Selling – understand your success formula.
Part Two - Context of Activity - learn what to do and when.
Part Three - Emotional Intelligence - and the part it plays in successful selling.
Part Four - The importance of Attitude – how to develop a winning approach.
These videos are in 5 minute segments which will help you learn how to maximize the potential of every Sales enquiry right now, and become a master at influencing others to get your own way more often.
ALSO
You get an amazing FREE report on the 7 BIGGEST SECRETS of the WORLD'S #1 Salesperson (as accredited by the Guinness Book of World Records)
Here's why:
You will get exclusive access to the techniques used by elite salespeople all over the world, persuasion tactics and Influencing skills, which will really amaze you and turn your prospects into buyers!
Now, I know…
You're probably skeptical. That's normal and healthy. Let me give you three good reasons to back up this claim:
Three Reasons to Believe What I Say
Reason one: These techniques come from over 20 years research working with and studying some of the best salespeople in the world, and they have worked for individuals, major corporations and family businesses alike.
Reason two: It is a proven fact that using the right language in the right way will make you more persuasive, and understanding your customer's needs will help you sell more, more profitably.
Reason three: Rob Purfield has personally put together easy to understand bite-size segments which make it easy for you to understand, assimilate and put into practice the very latest persuasion techniques available today.
So,
take action now and begin to improve your sales potential by saying YES to investing in "The Ultimate Knockout Closing System Complete Box Set" and have Rob personally guide you through each of these amazing techniques and ensure that you join the elite group, who will have exclusive access to this compelling compendium of persuasion strategies and sales tools to improve your sales results now.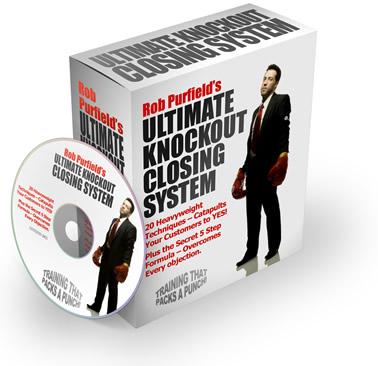 Rob Purfield's ULTIMATE KNOCKOUT CLOSING SYSTEM
for sales professionals who want to sell more.
Here is a summary of the benefits you receive;
1) 20 formidable techniques which will catapult your customer to YES! On DVD,CD and in the No1 book on closing sales "The Ultimate Knockout Closing System"
Which means that you can have these outstanding techniques available to you wherever you are, in any format you want.
2) Access for the first time to the SECRET 5 STEP FORMULA — overcomes every objection
Which means that you can approach every sales pitch with confidence.
3) Free four part downloadable BEYOND SALES PROCESS
Which means that included in your investment is the chance to; Understand the Psychology of Selling, Review your Sales Formula, build Emotional Intelligence into your Sales Process and appreciate how much your Attitude defines your success
4) A free e-Book "How to gain referrals from every customer"
Which means that you can start to double your sales immediately
5) A special invitation to one of Rob' SELLMORE PROFIT CLINIC events at a discounted rate (save £200)
Which means that you can watch and listen to Rob deliver these compelling techniques in person with the opportunity to put your questions to Rob directly and have him explain how you can build THE ULTIMATE KNOCKOUT CLOSING SYSTEM into your sales process.
6) FREE report on the 7 Biggest secrets of the world's #1 salesperson
Which means that you will have access to SEVEN key strategies that made Joe Girard the World's number one salesperson
7) 20 proven sales and communication, persuasion and influencing techniques
Which means that you can use them with confidence knowing THEY WILL improve your results immediately
Now, you're probably wondering how and why I can offer you all those things?
Let me explain.
THE ULTIMATE KNOCKOUT CLOSING SYSTEM is unique, it has taken nearly 20 years of research - it gives you high quality information in a way that you can use it. If you want to access everything at once that's fine, but research has shown that the best way to digest information is in bite-size chunks, so Rob and his team provide you with everything you need in a number of formats so you can 'check in and out' as you see fit, or feel comfortable.
Added to all this, the Book and the DVD's and Audio CD's have been especially commissioned for YOU!
They are divided into short highly professional digestible chunks. They are designed to give you exactly what you need in the best way possible.
The DVD's are unlike any others (you know the ones who just video themselves presenting to a third party audience) Rob has commissioned these videos, 'decanted' the good stuff and presents it to you – straight to camera!
The audio is professionally produced in a high quality studio to give you the best listening experience.
And the book is awesome, in that it leads you through each technique, how it works and gives you space to design your very own special ULTIMATE KNOCKOUT CLOSING SYSTEM!
Because you get the techniques in three different formats (DVD, CD and the BOOK) you have immediate access to them, they are always available to you and the high quality is consistent throughout!
Don't take my word for it.
Listen to what customers say about my training . . .
"My sales team have never been so productive...thank you"
Vijay, India.
"Wow, what a difference when you understand how to express yourself properly"
Yvonne, Somerset UK
"Since watching the videos, my sales meetings have been so motivational, and it shows in the performance of the sales people. We have just had our best month on month improvement ever."
Chuck T. Sales Manager, Arizona US
"I now use your films in all my sales meetings."
Angela, South Africa
Warning: Do not BUY any Training on CLOSING TECHNIQUES
unless it meets the following 5 criteria
There is a lot of confusion surrounding our field. I want to give you 5 criteria or elements you absolutely, positively must have in any solution you obtain:
1: Bespoke material written for you the Sales Professional!
2: Video material presented to you through the camera not second hand to a third party seminar audience.
3: Audio Material professionally recorded in the studio, not just a recording of a seminar, or into a laptop.
3: Bite-size chunks so that you can really focus on the material
4: Superb state of the art techniques that will make you a champion
You get at least 10 times your money's worth!
Our clients pay up to £5,000 per day for this information. Normal Training videos are sold for hundreds, sometimes thousands of pounds. We are offering you this fantastic opportunity to train in the comfort of your own home for the special offer price of £47+vat
PLUS,
You do not have the inconvenience or the expense of travel. No hotels, No time away from home.
In summary,
Here's what you get:
"THE ULTIMATE KNOCKOUT CLOSING SYSTEM" – Your own copy of the No. 1 book on closing
The special bonus section on the SECRET 5 STEP FORMULA - overcomes every objection
Your own "OBJECTION JOURNAL" to develop a powerful system of overcoming objections and closing more sales
The complete set of DVD's – THE ULTIMATE KNOCKOUT CLOSING SYSTEM
The Complete set of Audio CD's – THE ULTIMATE KNOCKOUT CLOSING SYSTEM
FREE ACCESS to the four part video series "Beyond Sales Process"
FREE e-Book on how to "Gain Referrals from Every Customer"
And a free report on the 7 biggest secrets of the world's #1 salesman
PLUS; Qualification to a discounted ticket for one of my SELLMORE PROFIT CLINICS
REMEMBER . . .
You can't lose with our 100%, 365-day, Ironclad,
Money Back Guarantee
I am so confident that you will love this information, that I will give you a full one year guarantee...
If for any reason you don't find this information useful… return all the products to me in re-saleable condition, let me know the reason, and whatever it is,I will give you a FULL REFUND.
That's right—a 100% guarantee—which means there is no risk to you. AND … you get to keep all the free gifts!



Here's how to order right now!
To order your complete box set of THE ULTIMATE KNOCKOUT CLOSING SYSTEM for just £47+vat and to claim your £175.00 FREE bonuses just click the button below...
Good Luck and Good Selling,



Rob Purfield
P.S. Remember top salespeople don't make it up, they learn from what works for others.
P.P.S. As soon as you place your order you can also look forward to receiving your link to the highly commended four part Video series BEYOND SALES PROCESS.
P.P.P.S. Plus as soon as you place your order you can look forward to receiving your link to the fantastic e-book on How to get Referrals from Every Customer.
And of course remember our cast iron Guarantee – 100% money back offer if you are not satisfied – making your decision totally risk free!